PARASPARAM TRUST WELCOMES YOU TO ITS  FAMILY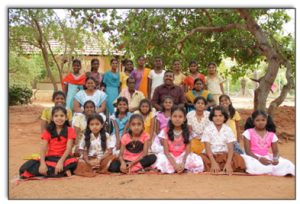 Parasparam Trust, founded in the year 1997 is a home of hearts which extends its open arms to help single-parent female orphans.  The Parasparam home is situated in the foot-hills of Kodaikanal at G.Meenatchipuram, Genguvarpatti (4 kms from Batalagundu town).
What makes Parasparam Trust's services vital is the fact that – in the thick of so many trusts, orphanages and caring homes for every kind of people, Parasparam cares for those who are seldom cared-for, in most cases ignored, neglected and driven to desolation – girls with only one parent.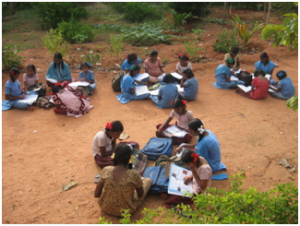 The common feeling is that these girls have at least one parent!  Why can't they then lead a normal life?  But in most cases the parents neglect these girls owing to several reasons.  If the parent happens to be the mother, she cannot make both ends meet, leave alone meeting the challenge of bringing up a girl child in a predominantly patriarchal society.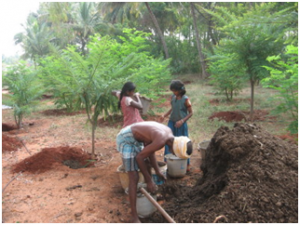 Parasparam Trust takes into its home single parent female orphans and cares for them till they reach a stage of independency in life, till they attain a stage of courage to face life on their own.  The trust, situated in an area of 2 ½ acres of land, currently has a built-in-hostel to accommodate 24 girls and one handicapped girl.  Recently a multipurpose hall, a prayer hall, an office room as well as a house for the care-taker have been added to the existing infrastructure.
Parasparam's chief  functions among others are …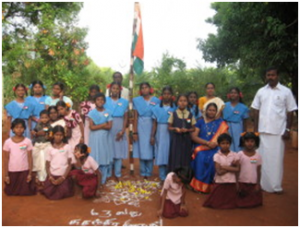 Help the girl children under its care to receive formal education
Help the children learn to self-start at an early age
Train the elder girl children to care for the younger ones, thereby instilling in them the need to care for others
Train the normal children to care for the handicapped ones and the latter to help the former with the school work etc whereby they both learn to give and take   mutually (Parasparam, as the name denotes)
Equip them with vocation for their future (like knitting, tailoring, screen-printing, DTP, weaving, gardening), so that they attain self sufficiency at the age of 18
Train them to care for animals (Parasparam now houses 9 dogs,35 cats)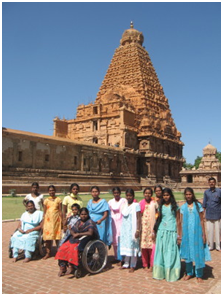 As part of the beginnings made at Parasparam home, the little girls have beensuccessfully able to learn, set-up and run their own screen-printing unit which prints greeting cards, visiting cards, letter pads etc.  At present it is wholly managed by the One handicapped girl. 
PARASPARAM – Staff Pattern
Founder / Managing Trustee
| | |
| --- | --- |
| Administrative Manager | Trust  Members |
| | | |
| --- | --- | --- |
| Mother In-charge | Gardener Cum  Watchman | Cook |
| | | |
| --- | --- | --- |
| Name | Designation | Responsibilities |
| R.Jayaprakash | Managing Trustee | Overall administration Mobilisation and appropriate distribution of funds |
| R.Kalimuthu | Administrative Manager | Programme-coordination, Maintenance of accounts and records.  Day to day running of the home |
| R. Perumayee (Physically Challenged) | Mother-in-Charge cum Cook | Training and guiding the children in their day-to- day activities, Maintenance of hygiene |
| K.Vani | Assistant | To Mother-in-Charge and Manager |
| C.Ramaswamy | Gardener Cum and Watchman | Maintenance of garden  Security and running small errands |
PARASPARAM – Future Plans
Fulfilling the concept of 'mutuality' that Parasparam stands for, the home for the aged will develop caring and sharing amongst the elders and the children.
Establishing a clinic in our premises with visiting medical doctors offering free medical assistance not only for the inmates but also for the public in and around this area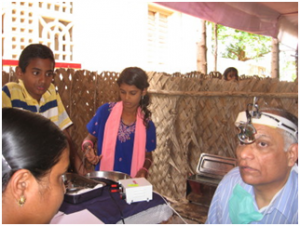 Well-wishers and donors are welcome at all times to visit the home and inmates!
Give the girl child an opportunity!
Parasparam seeks your kind cooperation in serving many more such children
PARASPARAM IS A SECULAR TRUST