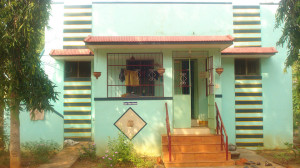 26.7.2007 after Mrs.Viji amma's demise, from the suggestion from the management, the present administrator Mr. Kalimuthu's family with his family, was brought to this house.
To give care, security and to meet emergency needs, it was advised that Mr. Kalimuthu is to be there in Parasparam.
808 house build up area. Four members, Mr. Kalimuthu's, his wife Mrs. Vani and his children Durga Nandhini and Ashok Kumar lives here.